What do you know about blood pressure?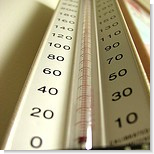 High blood pressure. Such common words for us. So common that 50 million Americans have it, ignore it, or don't know it. In fact, if you ask any of us how we're feeling, we'll say just swell, thank you. Which is weird for three such alarming words: High. Blood. Pressure. Its other moniker is even more bell-ringing: hypertension. And that's the perfect name for it: something inside of us is, well, really tense. And now they've gone and revised the guidelines, making our normal 120 over 80 seem like a 911 call. (As if we even know what 120 over 80 means.) So let's find out
1. what those numbers mean
2. where they get those numbers
3. (and why 'sphygmomanometer' is never uttered out loud.)
Blood Pressure: 101
Blood pressure is a necessary thing. If our bodies had no blood pressure, we couldn't stand up. We would just ooze around; gravity would have the better of us. Measuring pressure of any kind, from pleasing your boss, remembering your anniversary, to putting air in your tires-is expressed through this S.A.T. equation: Pressure equals Force divided by the Unit Area. Blood pressure is the amount of force that is exerted by our blood against the artery walls as it's being pumped through the body.
Each time your heart beats, it is pumping out about 2-3 ounces of blood into the major arteries-our garden hoses-that lead to our organs. Between beats, the heart, essentially a pump, refills with blood. That blood will then be pumped out and moved along with the next beat. When the arteries are smooth and clear-with no plaque or narrowed places, no barriers or speed bumps-the blood will flow freely. It will have plenty of room. The pressure of the blood against the arterial walls will be "normal."
Measuring Blood Pressure
The 2 numbers involved in a blood pressure reading represent the 2 stages of the pumping system: the pushing out of blood (systole) and the refilling of the heart (diastole.) In other words, it is when the heart is working (systole) and then resting (diastole); pumping out blood (systole) and then refilling (diastole). The systole is the upper and higher number; the diastole is the lower and smaller number. A reading of 110 over 70 means that your beating pressure and highest arterial pressure is 110 and your between-beat pressure and lowest arterial pressure is that of 70. (The actual numbers have to do with mercury units in the blood pressure monitor, not the number of heart beats you're recording or the number of blood cells coursing by.)
The brachial artery in the arm happens to be a good and convenient representative artery with which to measure pressure. And this is where that word comes in: the mysterious contraption that grips your arm is called a sphygmomanometer. The act of recording blood pressure is not nearly as complicated as the word. Here's how it works:
1. Extend your arm and keep it level to your heart. (Some health care professionals place the arm out straight; some bend the arm at the elbow.)
2. The cuff is wrapped snugly around your upper arm, about an inch above your elbow while a stethoscope searches out the pulse of the brachial artery.
3. The person taking your pressure will close a valve on the bottom of a bulb that, when squeezed rapidly, inflates the cuff. The cuff around the arm tightens until a dial or column of mercury reads about 30mmHg (millimeters of mercury) higher than your usual systolic pressure. If the doctor doesn't know your usual systolic pressure, the cuff is inflated a little above 200 mmHg. It is at this point that no pulse sound is heard through the stethoscope.
4. Here's the fun part: now the doctor opens the valve slightly, letting the pressure fall slowly. As the pressure falls, the number on the mercury dial or column that corresponds to the very first pulse heard through the stethoscope is your systolic (top) pressure.
5. Air continues to escape through the valve, and the moment pulse sounds disappear again you have your diastolic (bottom) pressure.
What's Normal These Days?
In the old days-last spring-140/90 was considered the upper limits of normal. That kind of 'normal' doesn't live here anymore. Recommendations and guidelines were changed and physicians are saying that it's about time. Blood pressure reclassifications from the National Heart, Lung, Blood Institute are as follows:
1. Normal -systolic, less than 120/diastolic, less than 80
2. Prehypertension-systolic,120-139/diastolic 80-89
3. Stage 1 hypertension-systolic, 140-149/diastolic 90-99
4. Stage 2 hypertension-systolic, 160 or greater/ diastolic, 100 or greater
But It's Only High in the Doctor's Office
Your blood pressure changes every, single minute. A cough, a sneeze, a thought, a stomp on your brakes during traffic raises your pressure so that your body has enough umph to respond to the stimulus. You want your pressure "to rise to the occasion." Otherwise you wouldn't be able to stomp on the brakes. But you don't want it to rise for no occasion at all. The best way to calculate it is to get an official reading at your doctor's office. Sure, you say, but that white coat is what raises your blood pressure. Your physician is accustomed to this warm greeting and will take this into account by doing repeat readings several minutes apart. Once you have an official baseline reading, your doctor will make any necessary recommendations.
This may include medication, dietary changes and exercise regimens. It may also mean a watch-and-see: monitoring your own blood pressure for several weeks at various times of the day in order to obtain an accurate record of your blood pressure. (See Part Two for details about self-monitoring.) Just knowing the basics of your body's mechanics puts you in better control of your health. Now it's time to do something about it. Oh yes, as promised: why is sphygmomanometer never uttered out loud? Because no one, including your doctor, can pronounce it.